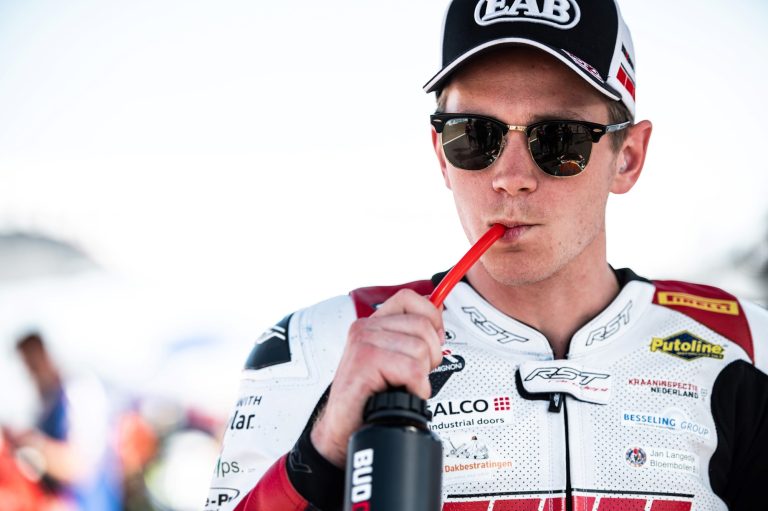 Name: Glenn van Straalen
Date of birth: 30-09-2000
Residence: Hoogkarspel
Team: EAB Racing Team
Bike: Yamaha R6
Class: World Supersport
Goal: Top 5 in the WK Supersport 600 final ranking
Naam: Glenn van Straalen
Geboortedatum: 30-09-2000
Woonplaats: Hoogkarspel
Team: EAB Racing Team
Motor: Yamaha R6
Klasse: WK Supersport
Doel: Top 5 in de eindstand WK Supersport 600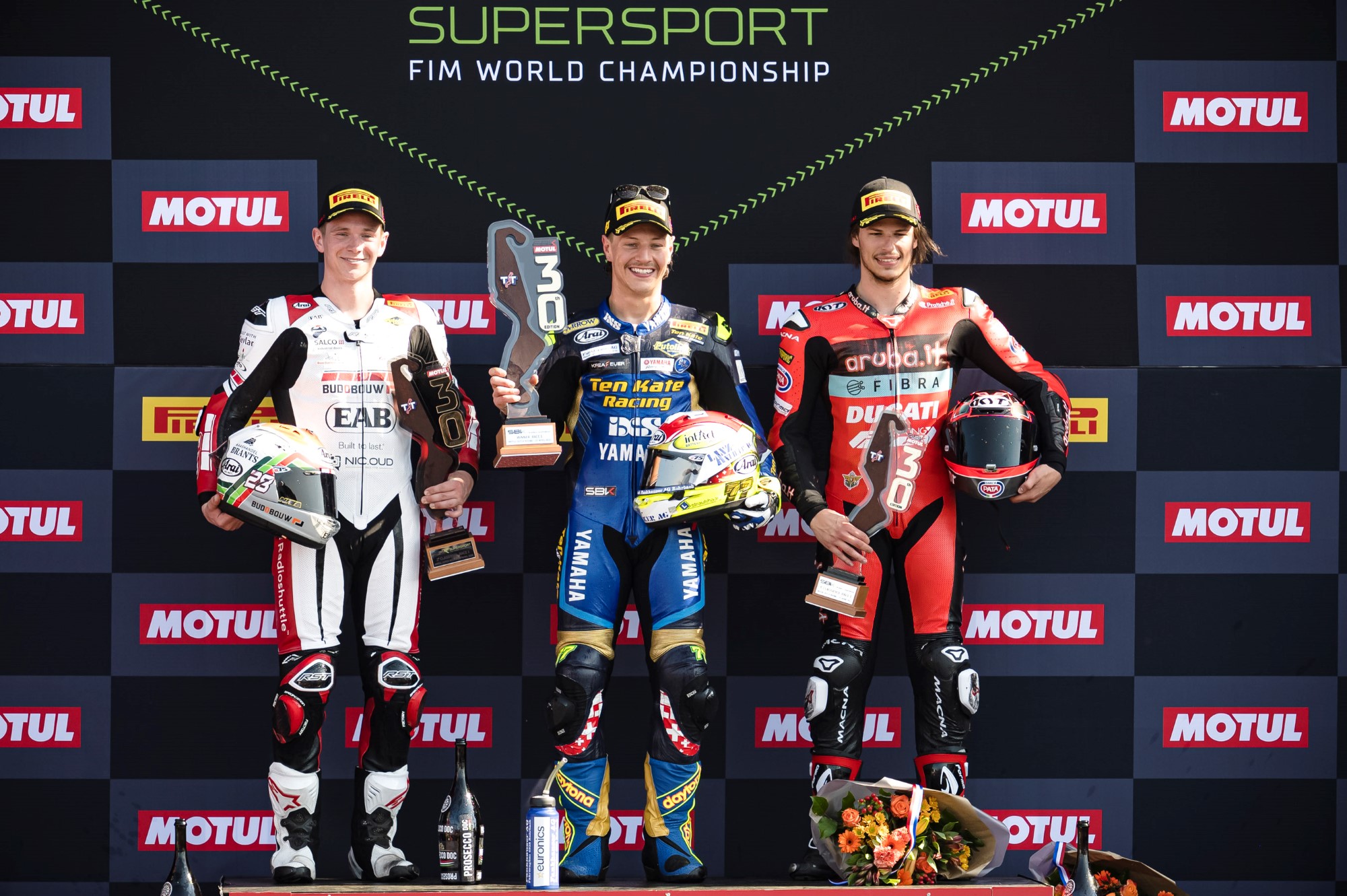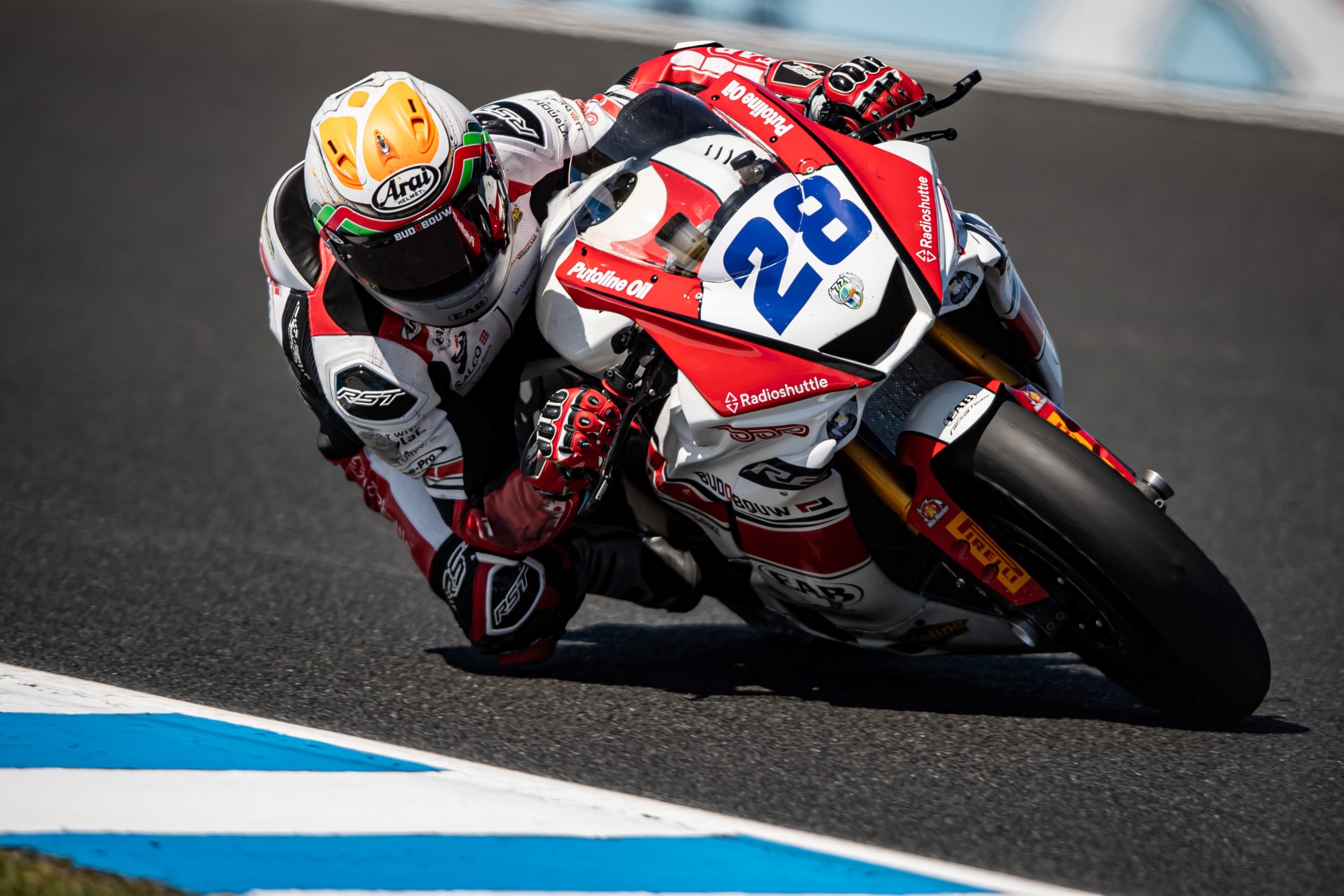 FIM World Supersport Championship (ENG)
In the 2022 season, Glenn will compete for EAB Racing Team as a regular entrant in the FIM World Supersport Championship. It is a positive season for the young Dutchman. Throughout the year, he shows good speed and manages to ride two podiums from this, including during his home race at the TT-Circuit in Assen where he manages to come second handsomely. A great performance in front of many Dutch fans. Later in the season Glenn scores another second place in France after an excellent race. In the end, we see him back in eleventh place in the final championship standings. In 2023, Glenn will continue in the same line-up. The goal is clear, to fight even more for podium positions and the top five in the final standings of the championship.
In 2023, Glenn will come out in the same composition and compete with EAB Racing Team in the prestigious Supersport World Championship, you can read how this goes here
FIM Wereldkampioenschap Supersport (NL)
In het 2022 seizoen komt Glenn uit voor EAB Racing Team als vast deelnemer in het FIM World Supersport Championship. Het is een positief seizoen voor de jonge Nederlander. Door het jaar heen laat hij goede snelheid zien en weet daaruit twee podiums te rijden, waaronder tijdens zijn thuiswedstrijd op het TT-Circuit in Assen waar hij knap tweede weet te worden. Een geweldige prestatie in het bijzijn van vele Nederlandse fans. Later in het seizoen scoort Glenn wederom een tweede plaats in Frankrijk na een uitmuntende wedstrijd. Uiteindelijk zien we hem terug als elfde in de eindstand van het kampioenschap. In 2023 zal Glenn in dezelfde samenstelling verder gaan. Het doel is helder, nog meer vechten voor podiumposities en de top vijf in de eindstand van het kampioenschap.
In 2023 komt Glenn in dezelfde samenstelling uit en gaat met EAB Racing Team de strijd aan in het prestigieuze Supersport wereldkampioenschap, hoe dit gaat lees je hier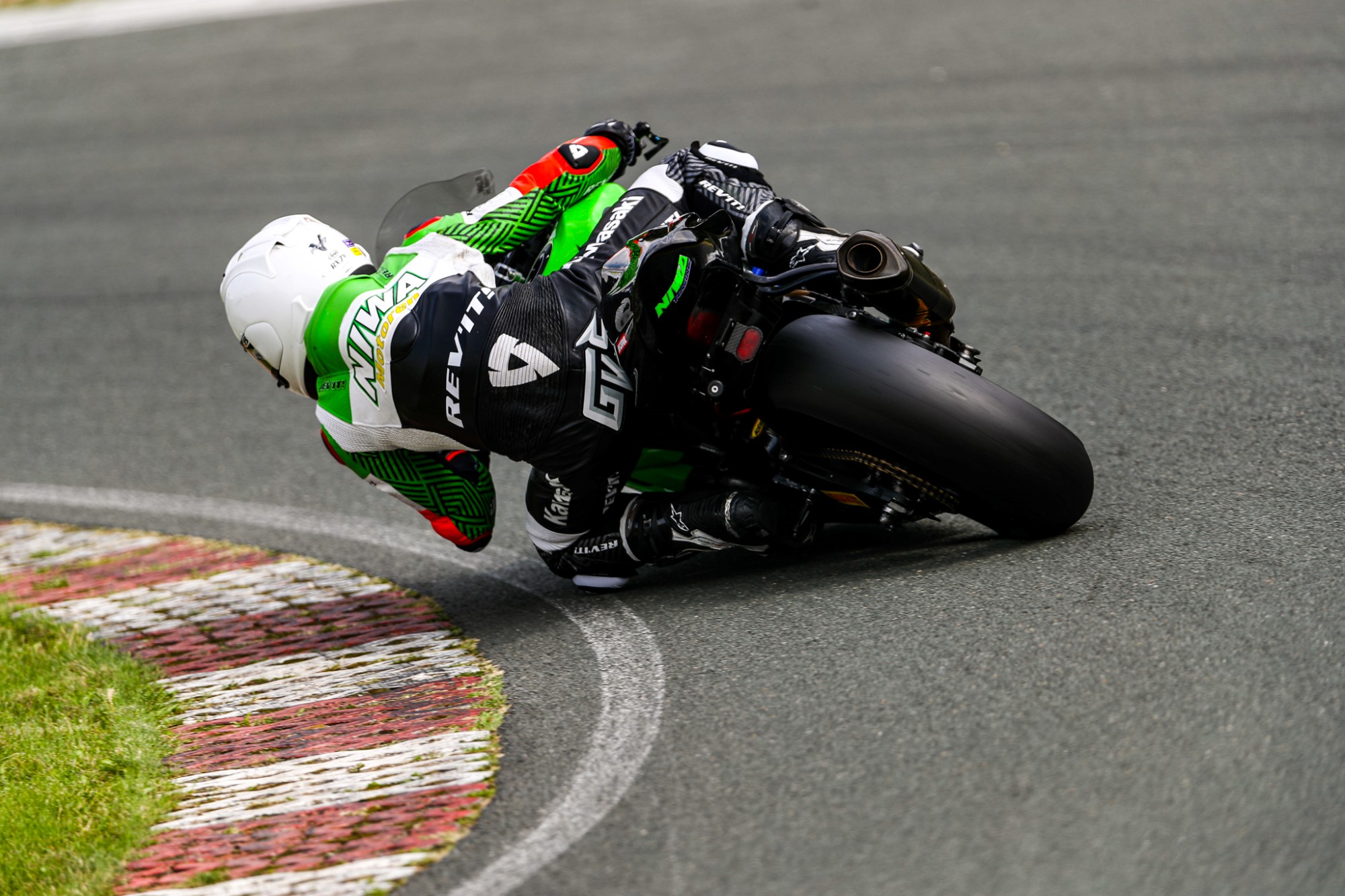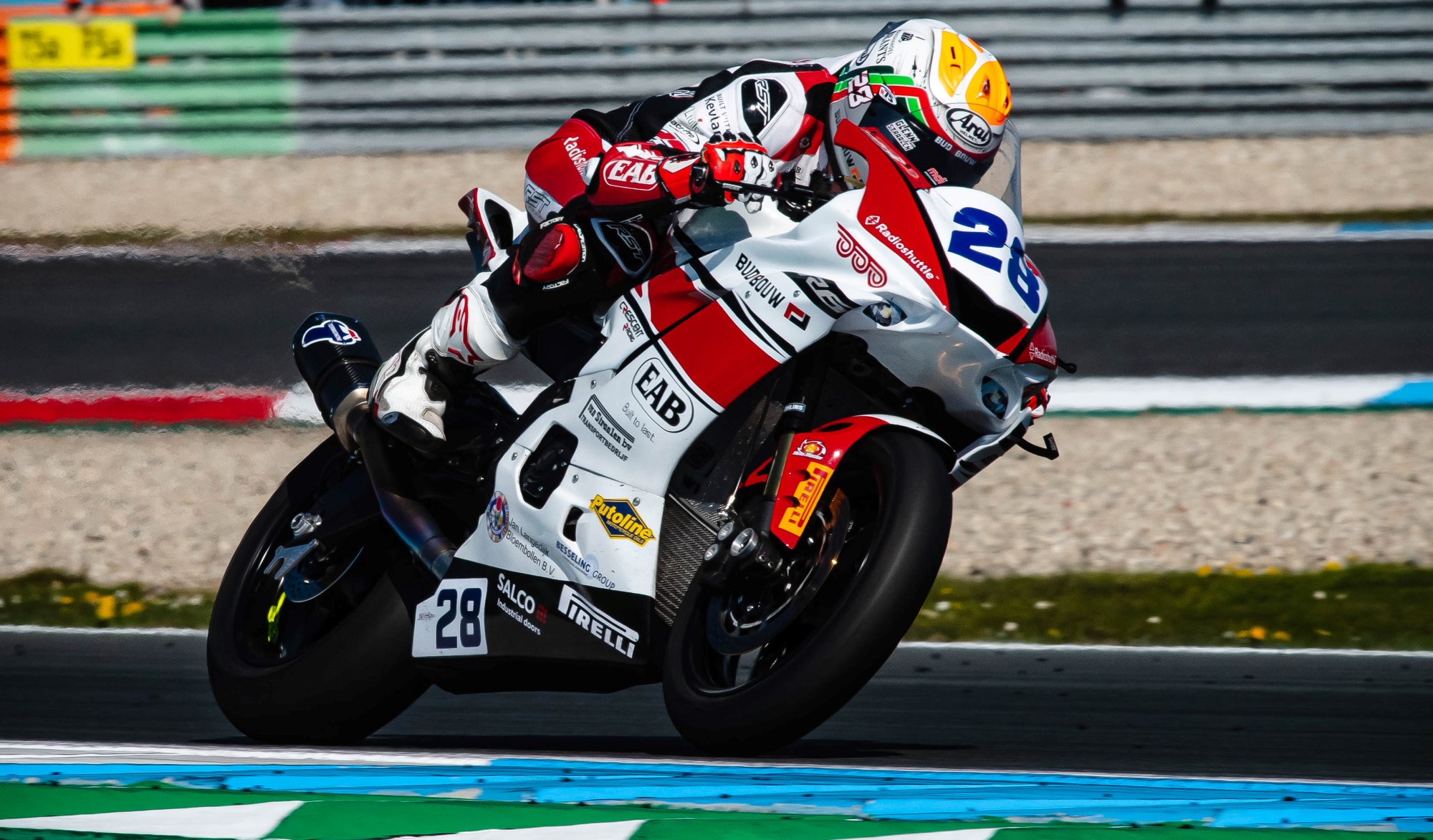 Four different championships (ENG)
In 2020, Glenn returns towards the World Supersport 300 Championship, but due to the corona pandemic, the road racing season gets a major shake-up and so does Glenn's season. The motorsport championships get off to a late start and Glenn rides in as many as four different categories in one season. Starting in the World Supersport 300, then returning in the World Supersport 600, but in addition, Glenn also rides in the German IDM Supersport 600 championship as the Dutch NK Supercup 600 championship.
After an eventful 2020, Glenn wants to focus on one championship.
The IDM Supersport 600 (ENG)
He chooses to start in the German IDM Supersport 600 championship. He has several podium finishes here, taking a double victory at his home race. He passes up the final race weekend in Hockenheim. He gets the chance to start for the EAB Racing Team for the last five races of the World Supersport 600 championship. He does this not without merit and immediately achieves two top ten finishes on the EAB Racing Team's Yamaha YZF-R6. The races that follow are also good and Glenn leaves a strong impression. Partly due to his good performance, he manages to secure a permanent place for the 2022 season.
Vier verschillende kampioenschappen (NL)
In 2020 keert Glenn terug richting het WK Supersport 300. Echter door de coronapandemie krijgt het wegraceseizoen een flinke opschudding en zo ook Glenn zijn seizoen. De motorsportkampioenschappen komen laat opgang en Glenn rijdt in één seizoen in wel vier verschillende categorieën. Te beginnen in de WK Supersport 300, vervolgens keert hij terug in het WK Supersport 600. Maar daarnaast rijdt Glenn ook in het Duitse IDM Supersport 600 kampioenschap als het Nederlandse NK Supercup 600 kampioenschap.
Na een veelbewogen 2020 wil Glenn zich richten op één kampioenschap.
Het IDM Supersport 600 (NL)
Hij kiest ervoor om van start te gaan in het Duitse IDM Supersport 600 kampioenschap. Hij kent hier meerdere podiumplaatsen, waarbij hij tijdens zijn thuiswedstrijd een dubbele overwinning op zijn weet te schrijven. Het laatste raceweekend in Hockenheim laat hij aan zich voorbijgaan. Hij krijgt de kans om voor het EAB Racing Team van start te gaan voor de laatste vijf wedstrijden om het WK Supersport 600 kampioenschap. Hij doet dit niet onverdienstelijk en behaalt meteen twee top tien-finishes op de Yamaha YZF-R6 van het EAB Racing Team. Ook de races die volgen zijn goed en Glenn laat een sterke indruk achter. Mede door zijn goede optreden weet hij voor het seizoen 2022 een vaste plaats veilig te stellen.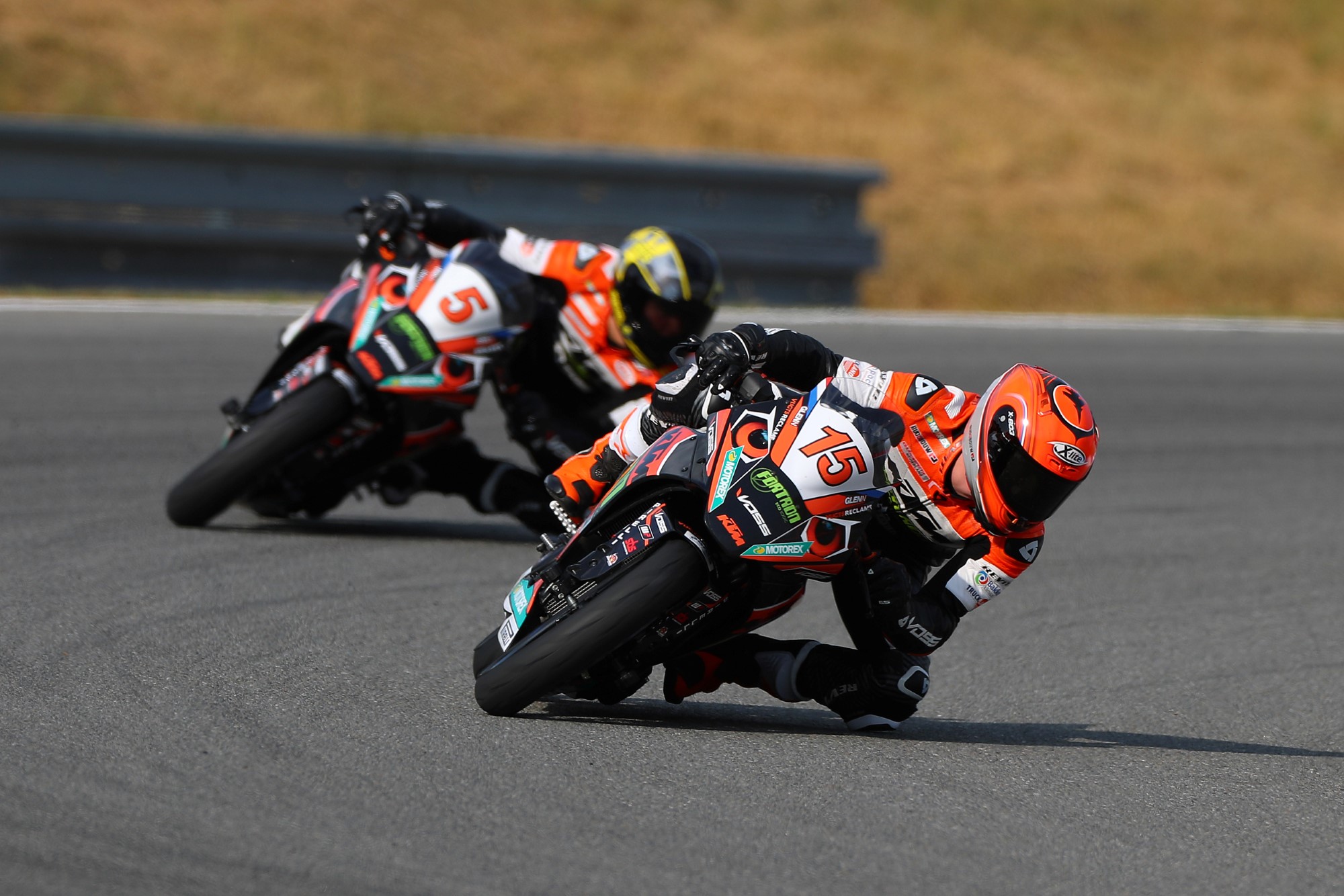 The step towards the World Championship (ENG)
The step towards the world championship will be made in 2018. Glenn will ride the World Supersport 300 championship on the familiar KTM RC 390 machine. He is having a good debut year in the lightweight class. After his podium in 2017 with a wildcard, Glenn will finish third at his home race at Assen in 2018. During the season, Glenn showed himself in the leading group a lot, which eventually resulted in ninth place in the final standings.
Then, the jump towards the prestigious World Supersport 600 championship was soon made. He competes for the EAB Racing team on a Kawasaki ZX-6R. In 2019, he managed to score ninth place at the TT Circuit in Assen during his debut year in this class. He showed good progress during the season from which a nineteenth place in the championship flowed.
De stap richting het WK (NL)
De stap richting het wereldkampioenschap wordt in 2018 gemaakt. Glenn rijdt het WK Supersport 300 kampioenschap op de bekende KTM RC 390 machine. Hij kent een goed debuut jaar in de lichtgewicht klasse. Na zijn podium in 2017 met een wildcard wordt Glenn in 2018 derde tijdens zijn thuiswedstrijd op Assen. Gedurende het seizoen laat Glenn zich veel in de kopgroep zien, wat uiteindelijk resulteerde in een negende plaats in de eindstand.
Vervolgens werd al gauw de sprong richting het prestigieuze WK Supersport 600 kampioenschap gemaakt. Hij komt uit voor het EAB Racing team op een Kawasaki ZX-6R.  In 2019 wist hij tijdens zijn debuutjaar in deze klasse een negende plaats te scoren op het TT Circuit in Assen. Hij laat tijdens het seizoen goede vooruitgang zien waar een negentiende plaats in het kampioenschap uitvloeide.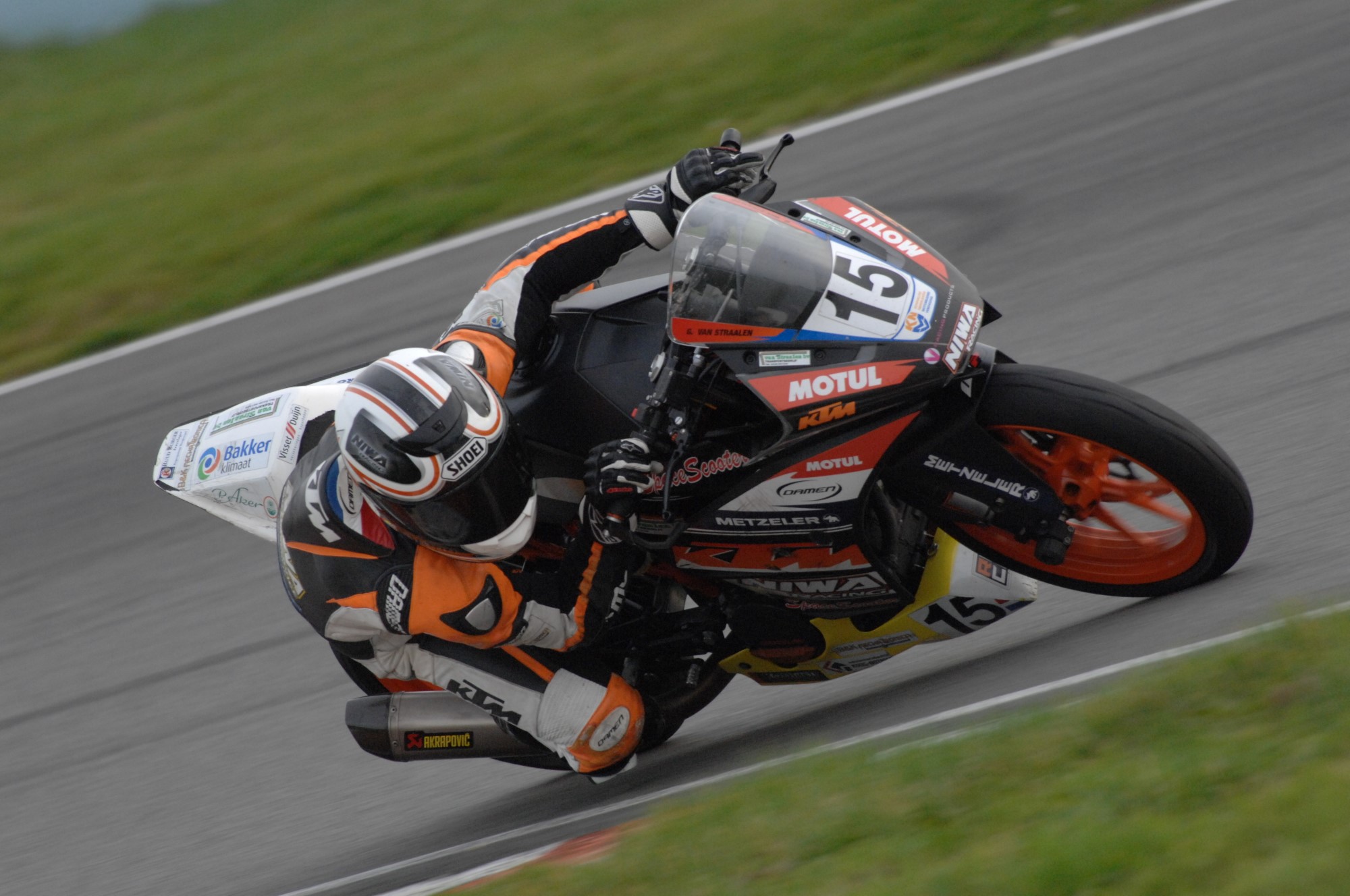 In 2017, eyes are once again on the KTM RC Cup BeNeLux championship and the NK Supercup 600 championship. Glenn now knows both machines and is keen for good results. Those good results came naturally, the season even went so well that he became champion in both championships this time. In addition, Glenn was also allowed to participate in the KTM World Final, where the best five riders from each country were allowed to compete. The first race he got to climb the top step on the podium but during race two he crashed out of the race. I had to settle for third place overall here. In addition, Glenn was given a wildcard to participate in the World Supersport 300 at the TT Circuit in Assen. From sixteenth place he managed to ride the Honda motorbike to a great second place. Impressive for his very first weekend in the world championship.
In 2017 zijn de ogen wederom gericht op het de KTM RC Cup BeNeLux kampioenschap en het NK Supercup 600 kampioenschap. Glenn kent inmiddels beide machines en is gebrand op goede resultaten. Die goede resultaten kwamen dan ook vanzelf, het seizoen verliep zelfs zo goed dat hij deze keer in beide kampioenschappen kampioen wordt. Daarnaast mocht Glenn ook deelnemen aan de KTM World Final, waarbij de beste vijf coureurs van ieder land mochten deelnemen. De eerste race mocht hij de hoogste trede op het podium beklimmen maar tijdens race twee crashte hij uit de wedstrijd. Ik moest hier genoegen nemen met derde plek algemeen. Daarbij mocht Glenn middels een wildcard deelnemen aan het WK Supersport 300 op het TT Circuit in Assen. Vanaf een zestiende plaats wist hij met de Honda motorfiets naar een prachtige tweede plaats te rijden. Indrukwekkend voor zijn allereerste weekend in het wereldkampioenschap.
The step towards the big circuit (ENG)
After several successes in the minibikes, 15-year-old Glenn made the move to the big circuit in 2015. He competes in the KTM RC BeNeLux championship. During the first races Glenn rides around the points but as the season follows he makes a lot of progression and even manages to finish on the podium a few times.
In 2016, the goal is clear, namely; to become champion. After an exciting season with the necessary battles, Glenn becomes champion in the KTM RC BeNeLux Cup with one point difference to number two, what a great season. The same year he also makes his first meters on a 600cc machine. He competes in the NK Supercup 600, where he learns a lot and manages to make constant progress. Despite having to miss two races, the rider from Hoogkarspel finished eighth in the final standings
De stap richting het grote circuit (NL)
Na meerdere succes in de minibikes maakt de vijftienjarige Glenn in 2015 de overstap richting het grote circuit. Hij komt uit in het KTM RC BeNeLux kampioenschap. Tijdens de eerste wedstrijden rijdt Glenn rond de punten maar naarmate het seizoen volgt maakt hij veel progressie en weet hij zelfs een paar keer op het podium te finishen.
In 2016 is het doel helder, namelijk; kampioen worden. Na een spannend seizoen met de nodige gevechten wordt Glenn met één punt verschil op nummer twee kampioen in de KTM RC BeNeLux Cup, wat een geweldig seizoen. Hetzelfde jaar maakt hij ook zijn eerste meters op een 600cc machine. Hij komt uit in de NK Supercup 600, waarbij hij veel leert en constant progressie weet te maken. Ondanks dat hij twee wedstrijden moest missen werd de coureur uit Hoogkarspel achtste in de eindstand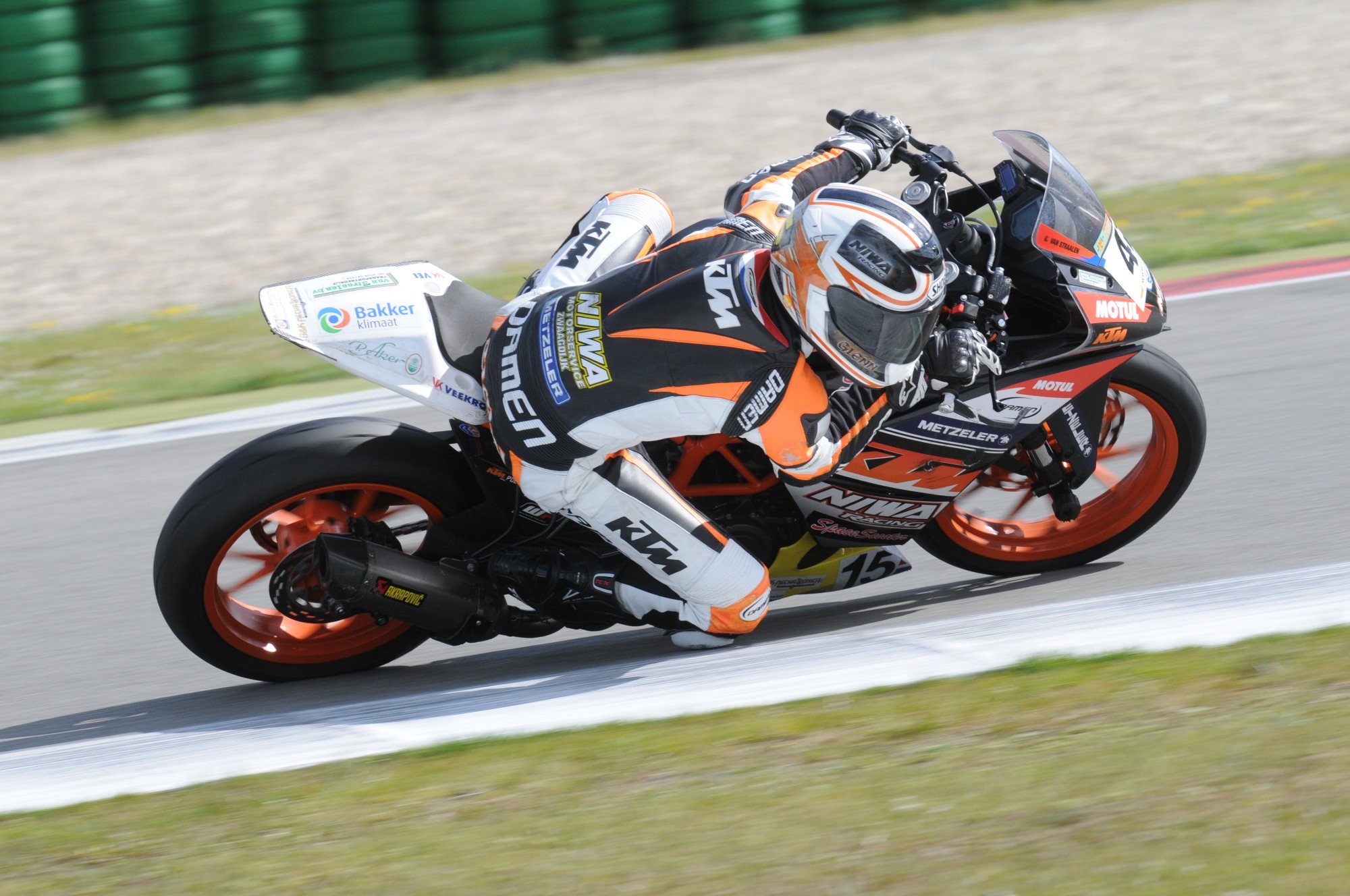 Glenn starts his racing career when he is six years old. The first metres are made on the minibike at the go-kart track in Grootebroek, near his birthplace in Hoogkarspel. After training a lot in 2007 and 2008, Glenn concludes his two learning years. In 2009, the combative van Straalen made his appearance in the Dutch minibike championship. Here he rides for the DSF Racing team at the time. A few years later, Glenn started scoring his first successes. In the year of 2012 he grabbed a few podium finishes, the following year Glenn manages to become the Dutch champion in the standard 40 class by supremacy. With no fewer than 15 wins out of a total of 18 races, he was allowed to crown himself champion. Glenn repeated the same trick in 2014, but then he became European champion in the Open 40 class.
Glenn begint zijn racecarrière als hij zes jaar oud is. De eerste meters worden gemaakt op de minibike op de kartbaan van Grootebroek, nabij zijn geboorteplaats in Hoogkarspel. Na 2007 en 2008 veel te hebben getraind sluit Glenn zijn twee leerjaren af. De strijdlustige van Straalen maakt in 2009 zijn opwachting in het Nederlands kampioenschap minibike. Hier rijdt hij destijds voor het DSF Racing team. Enkele jaren later begint Glenn zijn eerste successen te boeken. In het jaar van 2012 pakte hij enkele podiumplaatsen, het jaar daaropvolgend weet Glenn met overmacht de Nederlands kampioen te worden in de standaard 40 klasse. Met maar liefst vijftien overwinningen van de totaal achttien wedstrijden mocht hij zich kronen tot kampioen. Hetzelfde kunstje herhaald Glenn in 2014, maar dan wordt hij Europees kampioen in de Open 40 klasse.